McDougall Rim is the prominent mountain to the west that can be seen from pretty much anywhere in Kelowna. It's gentle slope rises up to 1400m and is home to Hayman Lake which is actually more of a swamp. Below McDougall Rim is Rosevalley Resevoir which is a popluar hiking and biking destination. This is a sweet hike with spectacular views starting just after the 2km mark. It's a well used single track trail that climbs quite conistantly. It's not terribly steep but is long if you go to the top. There's no potible water and it's bear country so be prepared.
Hiking access to McDougall Rim starts off of Bentley Rd. in West Kelowna above Bylands Nursery. After a couple of kilometres of private road you come to an obvious parking lot at the cattleguard. Mutliple atv/4x4 trails head up the hill to your right (north). If you stay right you'll find a well groomed hiking trail that winds its way up but it is much shorter to head straight up and you will eventually bump into the main hiking trail.
| | |
| --- | --- |
| | |
On this particular trip I took my drone and my Kessler Second Shooter and Pocket Dolly camera slider to shoot some timelapses. I opted for a hammock rather than the tent to save space and weight all though I was still maxed out at 70lbs. With all the prominent views towards the east and clear skies I wasn't in a huge rush to catch sunset but was hoping to get as high as I could before dark. After a hot, grunt of a hike I came to my usual camp spot at 2.3 km (image below from a previous trip). There were no suitable trees for the hammock so I pushed on to the next viewpoint.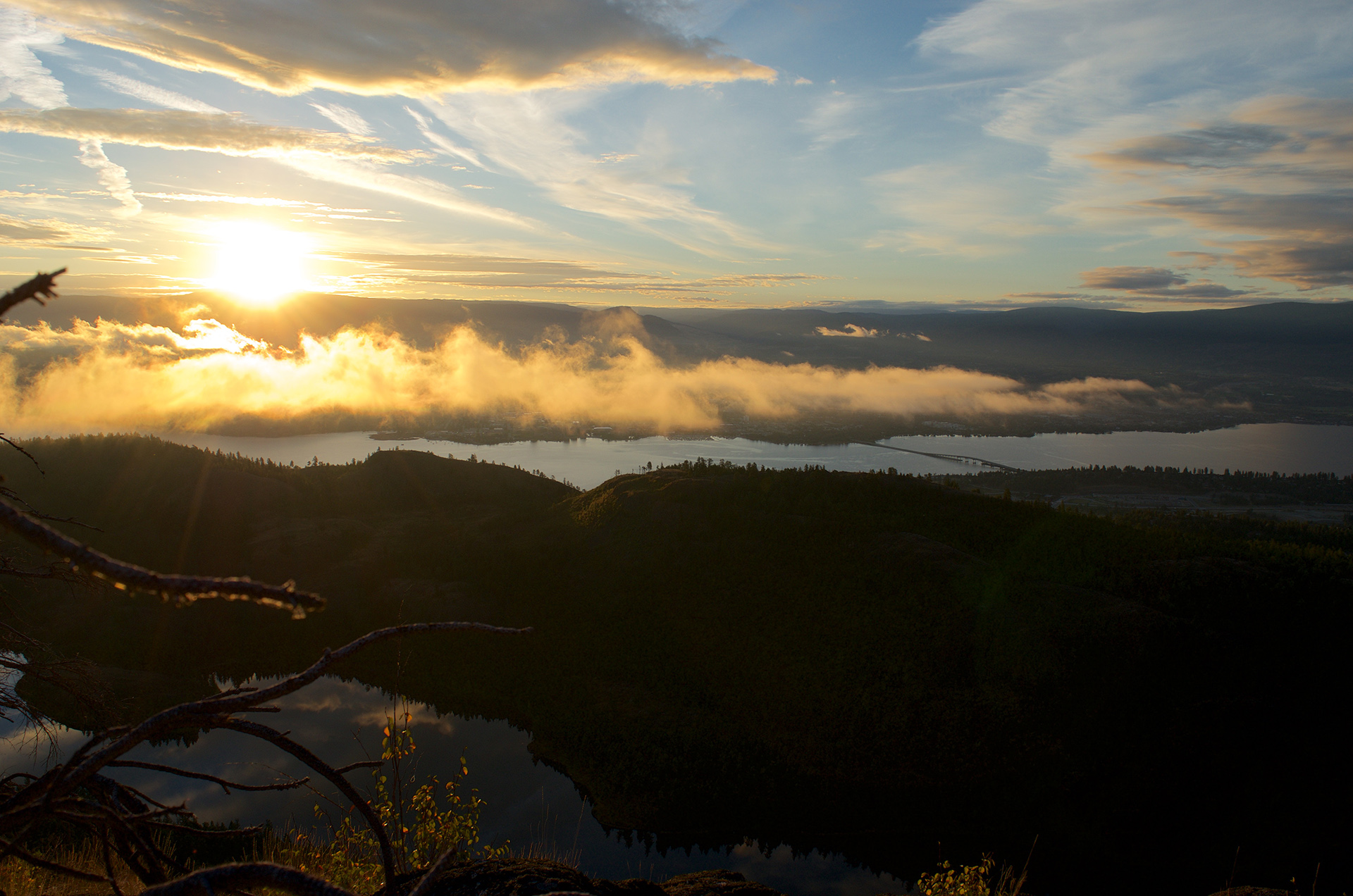 Another 30 minutes of mud puddle avoidance and mosquitos clouds I rounded the final corner to find two large trucks and a bonfire. Certainly a more civilized approach than I took. After generously sharing some ciders with me (I only brought a small flask of whiskey) we discovered that these delightful rednecks and I had crossed paths twice in the previous few weeks. Once they stopped to say hi when eating lunch on a back country ski trip at Big White (post season) and on another occassion they had seen my tent at the top of Boucherie on a early morning hike. Weird. Makes me think we should be friends.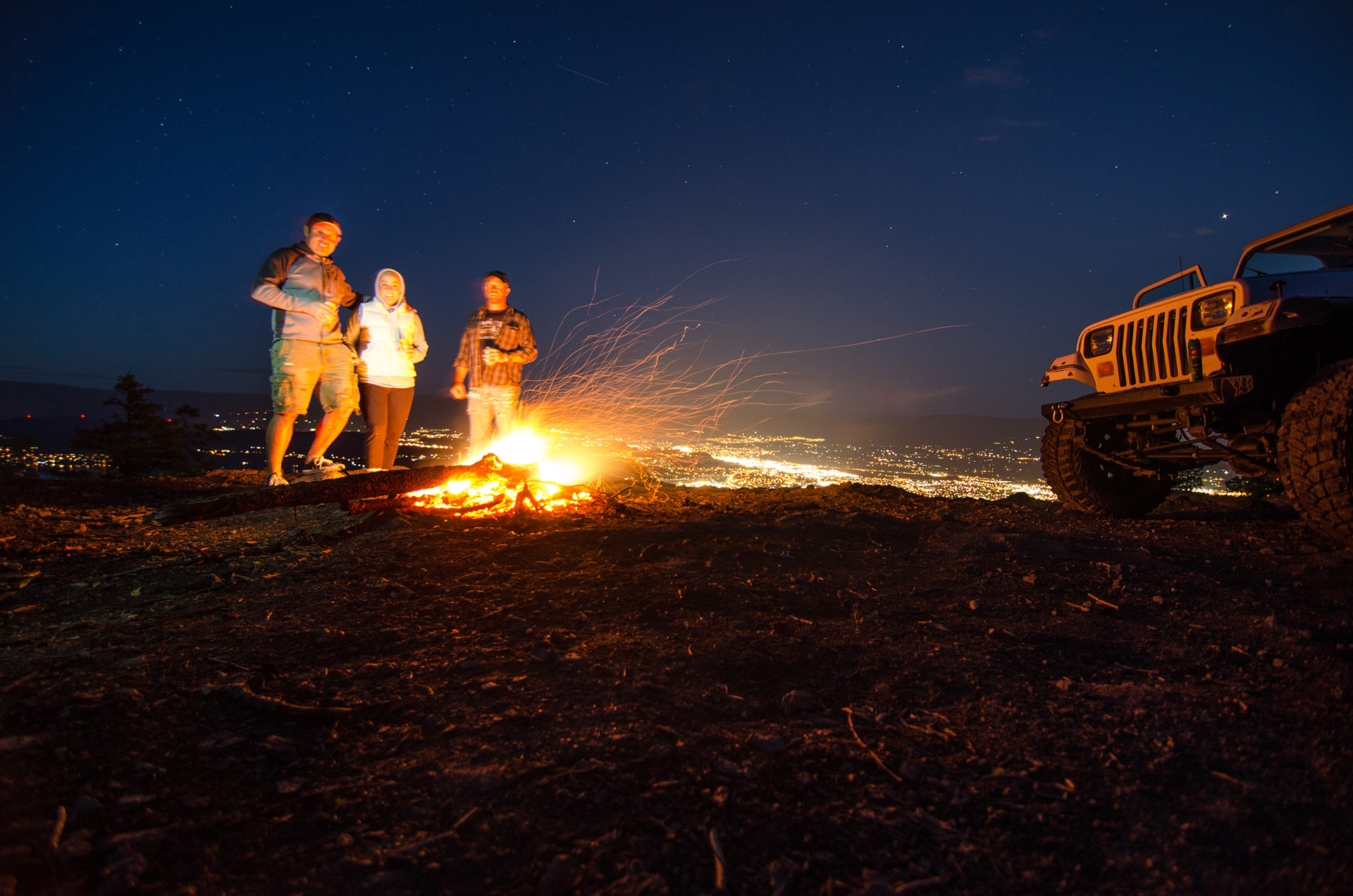 While I sipped the delicious cider I set up my initial timelapse. One of the big challenges with motion timelapses is trying to find interesting subjects that I can start with a nicely framed shot and end with a nicely framed shot. Fortunately my Second Shooter deivce lets me program the start and end points of the slider move (with a third move if so desired), the number of shots I want to take, the exposure time, and it does the dirty work of interpolating all the shots in between and offers the time of the move. Then I take into account the sunrise/set, moonrise/set, exposure and life of the batteries to try and plan something that's not horrifically boring.
After setting up my initial shot (10:50pm) and retiring back to my cider and idle redneck chit chat I got an email notification of a surprise aurora show, So after 218 shots I pulled the plug and calculated my next move to start with the city of Kelowna and end with a north view that should be timed to arrive with the northern lights (11:41pm). They were over Saskatchewan when I got the notice so I had to factor that in. Then I go to bed and hope for the best.
At 5:14am I took the first sunrise shot. These are tricky as you need to try to maximize the exposure for the golden hour clouds and then still be in the ball park to catch the sunrise without grossly overexposing everything else. I've made notes of settings that work but there are so many factors involved it's always a bit of a gamble. The following video is the result of a whack of photos. Spoiler alert: the northern lights didn't materialize.
A secondary motive to do this hike was to get a closer look at a seasonal waterfall that cascades over the McDougall Rim cliffs. I'd never seen it prior to this year. I had made two other efforts to get a good look at the falls from the bottom and got semi skunked. The first effort took me to City on the Edge of Forever mountain bike trail - which is very cool. The trail passes through a rock arch seen below. My second effort took me to the north end of Rose Valley Dam where I hiked in and tried to get some drone shots. The final shot in the above video shows some wet rock at the beginning of the clip but the falls had pretty much ceased to exist by the time I got up there. I suspect it had to do with cool temperatures over night as well.
An interesting side note for the tech geeks - the media from this trip totalled 65Gb. That includes three different exposure settings for the sunrise time lapse shots that were blended together to make it slighly more presentable.