On April 27th I popped down to Vancouver Island to shoot a FortisBC + BC Ferries LNG bunkering. Here's a photo of the bridge of a BC Ferries vessel which is totally irrevelevant to this blog post but cool.
The bridge has a mirror image with red LED's on the other side - depending which direction it is sailing. Very Star Trekish.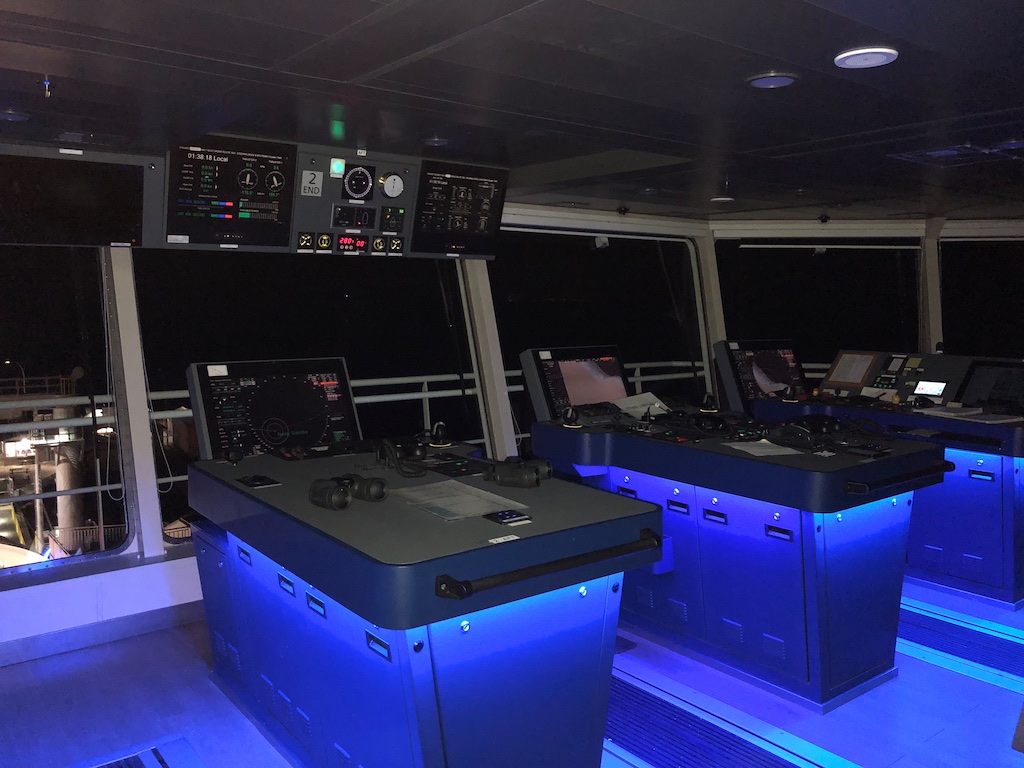 ​
On the return trip I was rubbernecking the Coquihalla Connector decent down into Okanagan Valley..... always spectacular..... when I happened to see a cave far above in the bluffs on Drought Mtn. I suspect this might just be a boy thing but I'm always intrigued by caves. I should note that this isn't the obvious big cave that's above Highway 97 and below the Connector.
Mission spawned. I'd be back in the near future. The following day I plotted a route on Google Earth to Drought Mtn which is sandwiched between Glenrosa and Peachland. Armed with a snack and a drone I was off. The following pics are a mix of the April 29 day trip and Sept 29, 2018 camp.
Drought Mtn above the Coq Connector and Gormans Mill. Rich colours on the 3km walk in.

| | |
| --- | --- |
| | |
This neck of the woods is loaded with ATV trails and some cool forest. I pride myself on having a fairly good sense of direction but both trips into this forest had me walking way off course. I'd recommend taking Google Maps in with you. The hike itself is about 3km of meandering roads but in an effort to stay on course I did plenty of easy bushwacking which to me is preferable to trails. To access this area it's probably easiest to drive up Glenrosa road and then turn south on Turnbull. It eventually turns into gravel and you can park at the southern most hairpin.
About a 10 minute walk from the car there is a fork in the road that branches off east. This is a great spot to catch views of the Northern Lights (see video at end). I've spent a few evenings here and it's very kid friendly as it's so close.
Here's a spring and a fall pic of the same pond (which is off course but I seem to end up at it everytime).
The same pond from different angles in spring and fall

| | |
| --- | --- |
| | |
Several benches and budweisers were scattered about which seems to go hand in hand with atv trails.

| | |
| --- | --- |
| | |
On my initial trip in I was able to get below the cave but the shale slope didn't allow me access. A quick drone recon as you can see in the video at the end of this post shows it isn't deep.
The cave in which I climbed most of the way up to then realized it was stupid and aborted. The campsite view on a drizzly morning.

| | |
| --- | --- |
| | |
This is a really beautiful, easy to access area with some colourful fall forest. If you're into camping this specific spot has a stellar view with some photogenic moss covered snags. The cliffs have some really interesting rock formations. I'd give this a 5 out of 6 beers as far as cool spots to have a beer goes.

As always happy to share more precise directions if you want them. Please like and share if you made it this far. Unless the jello-ish cave shot in the video caused by an unbalanced prop on my drone drives you crazy. Than feel free to say rude things.