I broke some new ground this past weekend in Revelstoke. I was invited to join some friends and their family on an alpine hike in Revelstoke Provincial Park.
This was quite different than most of my hikes in several ways. First off was the 26km paved road that gets you pretty much into the subalpine. We were on the trail head from the parking lot at 9:50am with several tour vans ahead of us. By on the trail head I mean walking the 1km paved road from the parking lot that is closed to all but the shuttle busses. As this was a day trip our packs were light and pace was fast.
We weren't entirely sure of our destination as the fitness level of the group was undetermined. After 90 minutes of hiking well worn, fat trails we came to the Miller Lake fork in the trail (the brochure labels this as a 2-3 hike). It's apparently a 10 minute hike to the lake but we opted to pass it and head for the furthest lake called Jade lake.
Steam rises with the heat of the morning sun after a chilly night.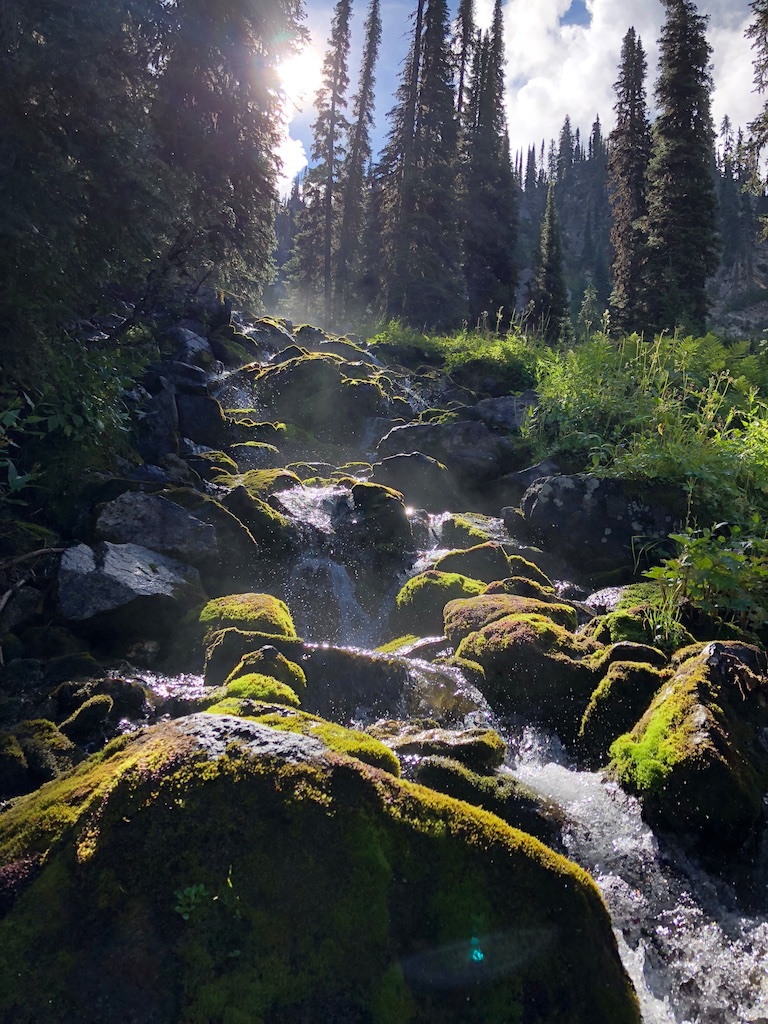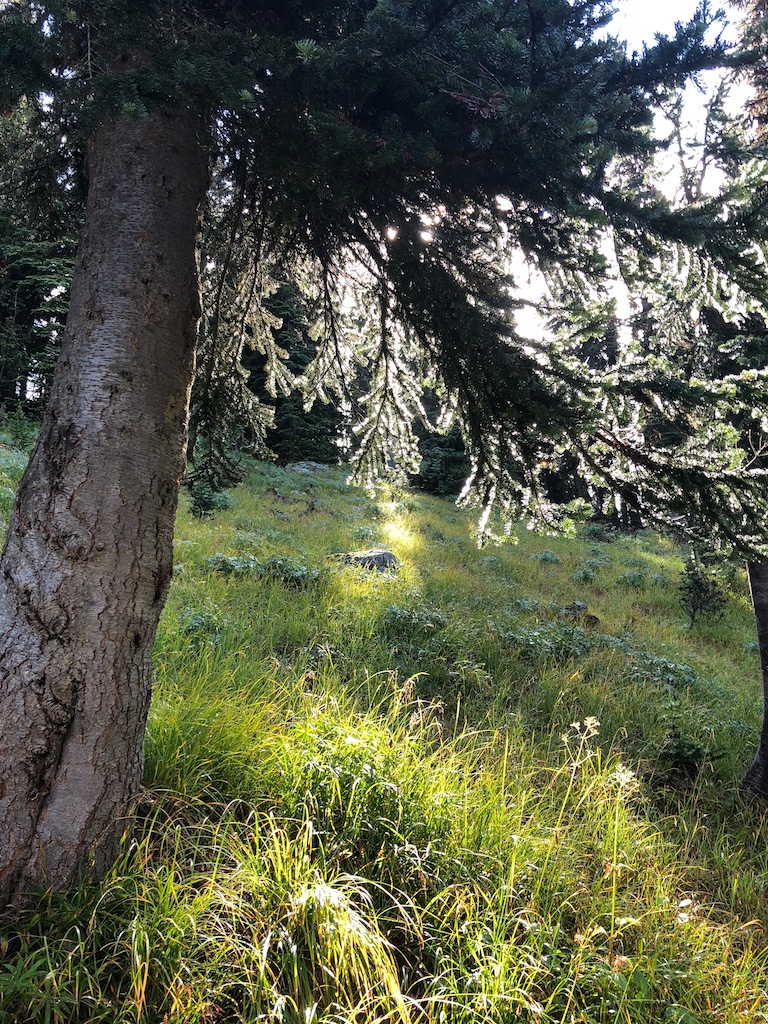 6.5km in we had only made a 15m elevation gain from the parking lot but ascended 270m vertical as we had decended before climbing back up to the lake elevation (that's similar to the Cliff chair at Big White for reference). This was the second variance in the hiking trails I usually do. Weird to hike for 90 minutes and still be at the same elevation.
Miller Lake reflections and trail to Jade Pass

| | |
| --- | --- |
| | |
The Jade trail took us above and around Miller Lake which is quite picturesque. This portion of the hike was a little steeper but had plenty of switchbacks - the final differing factor of this hike to others. Generally the trails I do are steeper with less switchbacks. 2.2km in we reached the highest point of our hike - Jade Pass at 2195m. Typical alpine views with a few more humans than I'm used. Far down below us was Jade Lake.
Half our party stayed here while friend Lance, his 11 year old nephew, and myself began the 420m descent. Jade Lake had several gravel tent pads and an outhouse with a spectacular view. We had a quick dip, a bite to eat, some photos and then began the 60 minute trudge back up.
Winding down from Jade Pass to Jade Lake

| | |
| --- | --- |
| | |
Overall I found this hike to be long and busy for the reward. Typical Monashee hikes I do offer similar scenery with less people at less than half the distance. The lakes are certainly beautiful and the trail is in great shape. Lots of creeks were crossed that we refilled our water bottles from. I suppose it's hikes like this that keep the masses at bay from the more remote, lesser known hikes that I prefer to frequent.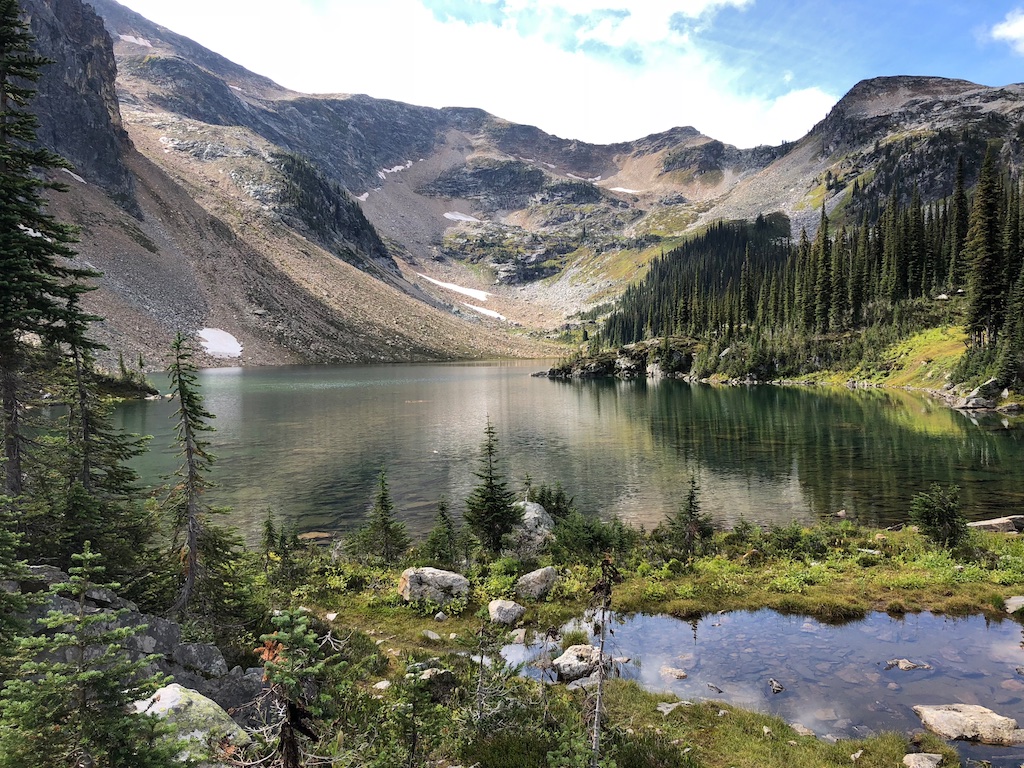 The one lake we didn't get to was Eva which would likely make a great overnight hike for famiies. Long enough to be challenging and I woud imagine quite rewarding with scenery.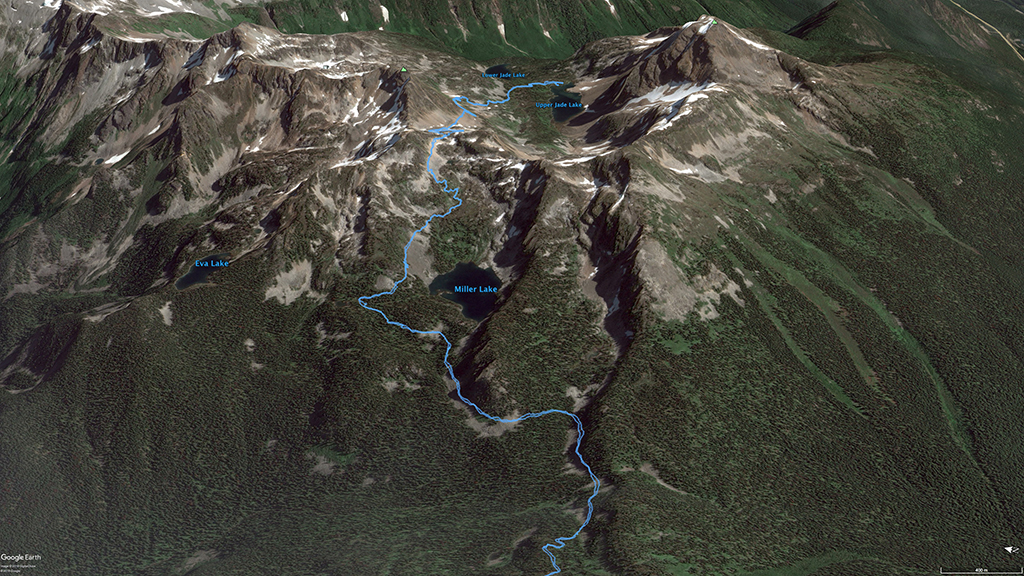 On the hike out we passed far too many tourists beginning the hike far too late in the day. Had they tried for Miller Lake they would have been hiking back in the dark and from the look of them they were not prepared for that scenario. Not to mention their cars would have been locked in.
Always nice to try a new destination but I would try one of the zillions of other Revelstoke hikes before going back to this one. It was a 23km round trip that took about 7 hours. Total ascent was 1341m. So many places... so little time.